California is not only home to gorgeous beaches and clear skies, but also where you'll find some of the finest restaurants in the country. The cuisine in San Luis Obispo is diverse, fresh, and full of flavor. Whether you're looking for classic American grub or a global experience, there's an abundance of superb restaurants that are guaranteed to satisfy your palate. There are many restaurants to enjoy near
San Luis Obispo Real Estate
, and we've compiled a shortlist of some of the best.
1. Firestone Grill
Standing as one of the highest-rated restaurants on Yelp,
Firestone Grill
is a staple in the culinary scene in San Luis Obispo. This restaurant, located in the heart of downtown, prides itself in providing its patrons with a memorable dining experience. The menu is made up of delicious American classics, from their famous tri-tip sandwiches to their BBQ, all prepared with their famous sauce which is made from scratch. Pair your meal with a selection from their wine or cocktail menu, and enjoy a delectable evening.
2. Brasserie SLO
Brasserie SLO
cultivates an incredible French dining experience within a brick-lined eatery. Bring your friends here for brunch and enjoy croissant beignets with strawberry jam and powdered sugar or some delicious buttermilk waffles. For dinner, start off your meal with grilled artichokes followed by fresh fire-roasted salmon. Upstairs is the rooftop poolside dining space complete with its own custom menu. After taking a dip, we recommend their popular hot chicken sandwich with a pinot grigio or one of their craft cocktails.
3. Big Sky Cafe
At
Big Sky Cafe
, you'll enjoy true farm-to-table delicacies, as this eatery serves dishes that are both delicious and healthy. To ensure that their meals are fresh, the owners cultivate a seasonal menu based on the ingredients sourced from local farmers. This cafe also displays pieces by local artists on their walls and hosts art receptions for viewing. Their breakfast menu contains classic morning cuisine from customizable pancakes to classic omelets and hash browns.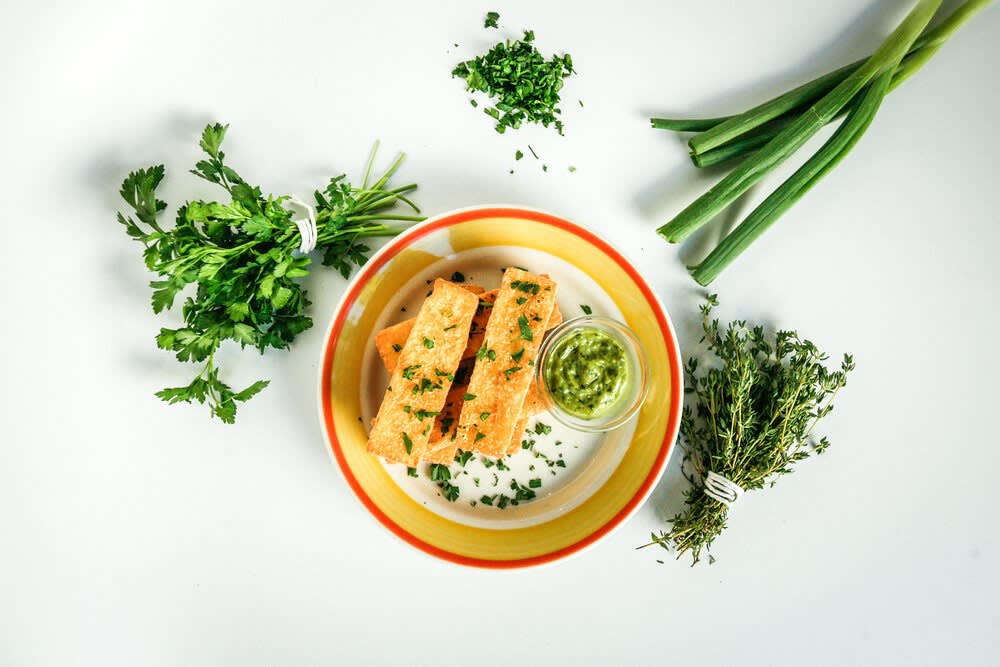 Credit: Big Sky Cafe
4. Luna Red
From the lively setting to their menu of global cuisine, dining at
Luna Red
is a truly unique experience. At this restaurant, you'll enjoy top-tier service and a comforting, welcoming atmosphere. Their menu is made up of ingredients provided by local farmers, creating fresh and flavorful dishes such as shrimp ceviche, tortilla soup, and bacon-wrapped dates. Be sure to pair your meal with one of their handcrafted cocktails or wine from their award-winning list.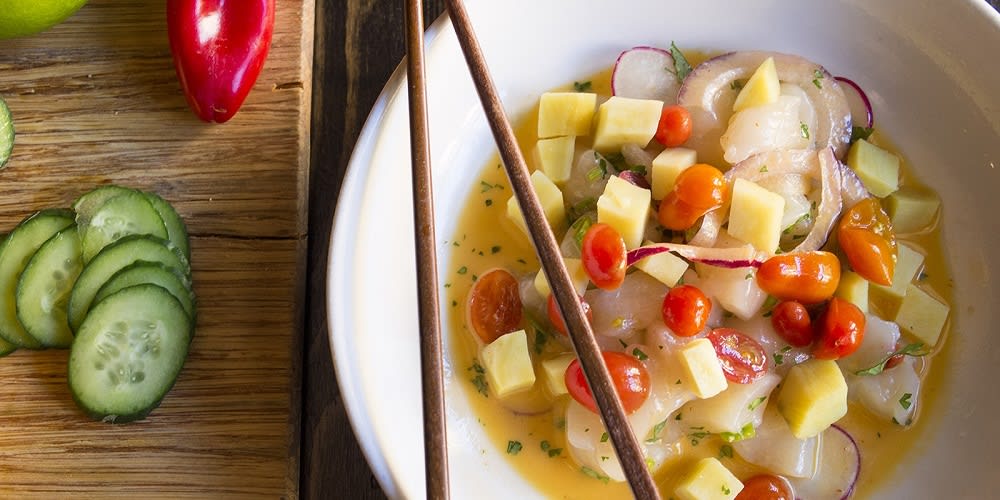 Credit: Luna Red
5. Novo
Known for their global fare,
Novo
is a multi-space eatery with a cellar, upstairs lounge, and patio for guests to dine in. Although small, the culinary team is passionate about preparing every dish they serve, using exciting spice combinations and market-fresh produce for the entire menu.
For brunch, try one of their several hot tea flavors while digging into fresh avocado-shrimp spring rolls or even their Belgian waffles topped with fresh berries and organic maple syrup. For lunch or dinner, we recommend Korean short ribs with a fresh Caesar salad while sipping on their freshly made lemonade.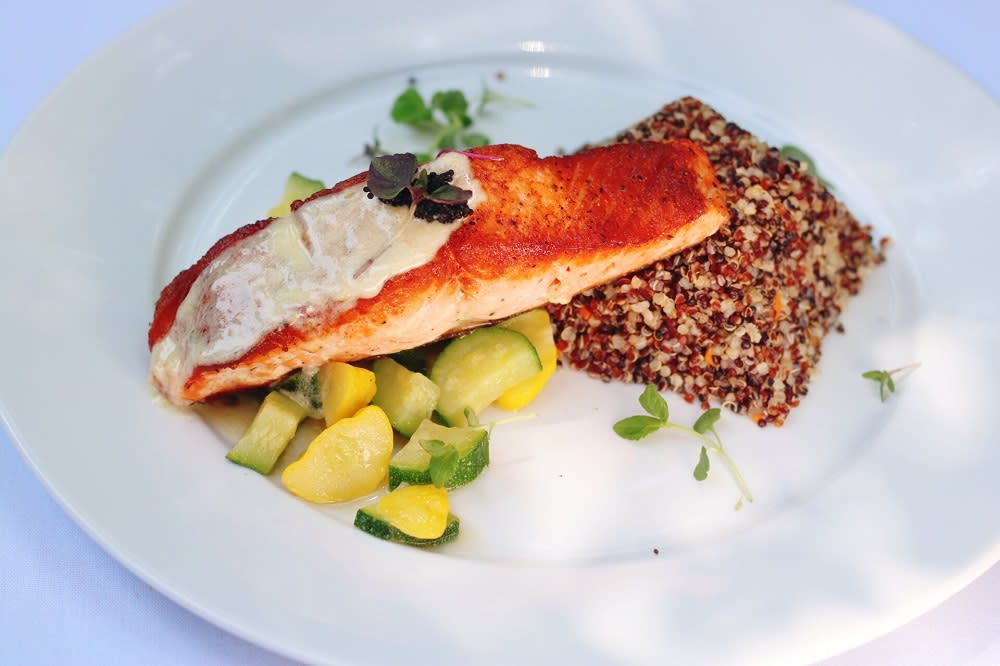 Credit: Novo
6. Petra Mediterranean Pizza and Grill
With a menu that combines Mediterranean food with a dash of American flair,
Petra Mediterranean Pizza and Grill's
has a unique take on recognizable classics. With a reputation as one of the best restaurants in San Luis Obispo, each plate is filled with unique and exciting flavors prepared by a dedicated culinary staff. For those looking to dine in the fresh air, there's outdoor seating available with plenty of space and shade. Indulge in their pita sandwiches, kabobs, greek-style pizza, and more.
7. Buona Tavola
If you're looking for an intimate spot with a nice interior and a mouthwatering menu,
Buona Tavola
could be the ticket. Their Italian menu is composed of fresh meals prepared by their seasoned cooks using the freshest ingredients in the area, and a gluten-free menu is available as well.
The elegant space and outdoor patio can be rented for special events. Whether it's an intimate gathering or a large dinner, Buona Tavola will make it an experience to remember.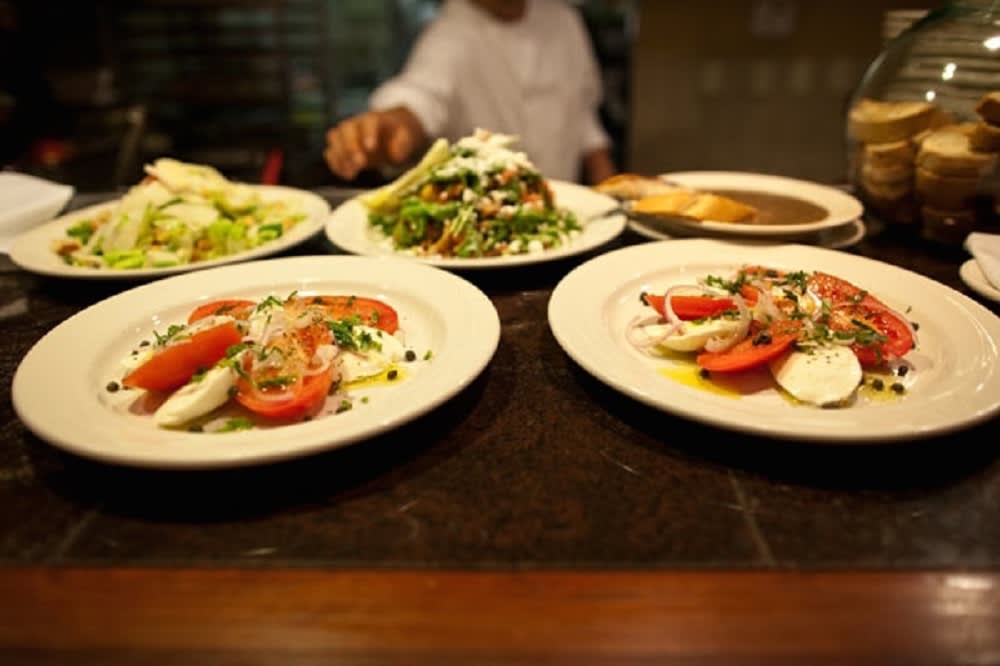 Credit: Buona Tavola
8. Piadina
Piadina
cultivates a casual vibe for patrons to savor their farm-fresh fare. Tuck into your meal in either the stylishly decorated indoor area or on the beautifully arranged garden patio. Their lunch and dinner options, all inspired by Italian cuisine, include their tasty herb-roasted chicken or their flavorful house-ground smash burger. The pizza options can vary depending on what you're hankering for - keep it simple with their classic cheese pizza, or add some exciting flavor with their smoked salmon and caviar pizza.
9. Flour House
The
Flour House
is a lively restaurant immersed in Italian culture and traditions. With their ever-changing menu, there are plenty of dishes that pay homage to Italy and its range of flavors. The quality and care the chefs have for their craft can be tasted in every dish. The highest quality of Italian flour is used for their pizza dough and pasta, and their brick oven is the real McCoy - handmade and shipped from Naples, Italy. Flour House also provides an incredible selection of cocktails, craft beer, and wine to compliment your meal, which can be enjoyed indoors or outside on the patio.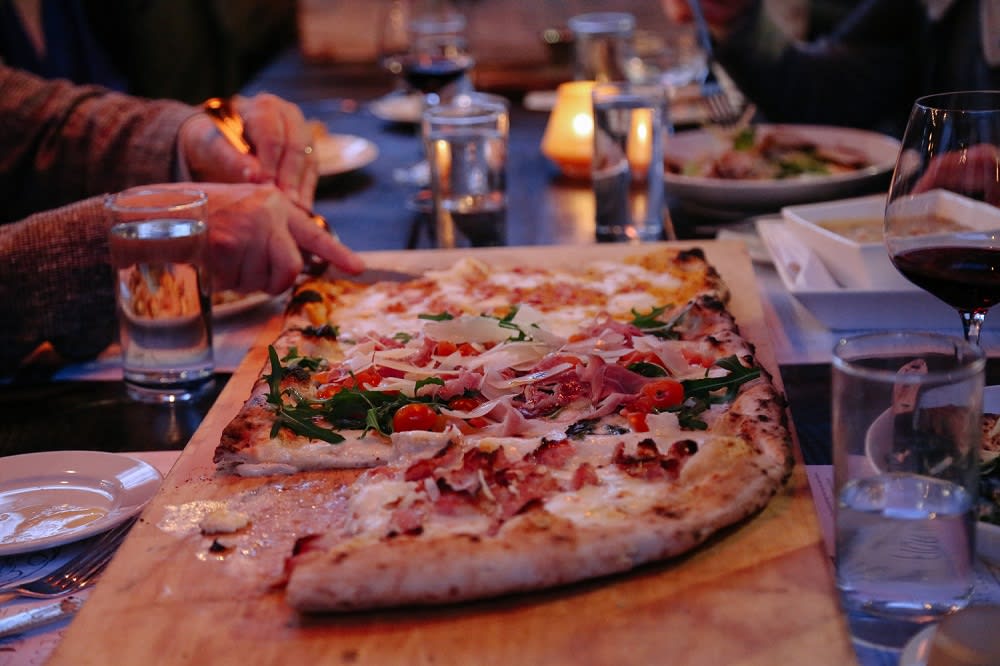 Credit: Flour House
10. Spirit of San Luis Restaurant
The
Spirit of San Luis Restaurant
is a family-friendly location with a protected outdoor area for kids to play and socialize in and exciting views of the airport. Whether you're stopping by for a casual brunch or a business lunch, there are plenty of delicious options to choose from. The brunch menu contains many popular morning eats including Belgian waffles, french toast, pancakes, omelets, scrambles, and more. For lunch, nibble on some sweet chili wings or some classic mac and cheese. There's also a delicious variety of burgers, salads, and appetizers on the menu to satisfy your cravings.
11. Ciopinot Seafood Grille
Dining at the
Ciopinot Seafood Grille
is a memorable experience. Savor every bite as you indulge in their delectable seafood platters. The service staff here are both friendly and attentive towards everyone, and there is no automated tip charges no matter the party size. Their menu consists of tasty appetizers including calamari fritti and Mexican stuffed prawns along with a number of mouth-watering soups, salads, pasta, and steak. Seafood specialties include charbroiled swordfish stuffed with spinach and feta cheese and the fresh king salmon served with bok choy and a crispy sushi rice croquette.
12. Goshi | Japanese Restaurant
Goshi
is the place for authentic Japanese food in San Luis Obispo. The restaurant is outfitted in simple decor, allowing the dishes to be the center of attention. Goshi's menu is made up of various nigiri plates and an abundance of rolls, noodles, and rice bowls complemented by a Japanese beer and wine list. The restaurant also creates their own special sauces they use in their dishes, contributing to distinct tastes their cuisine is known for. As one of the most impressive Japanese establishments in the area, Goshi has grown to become a local favorite in San Luis Obispo.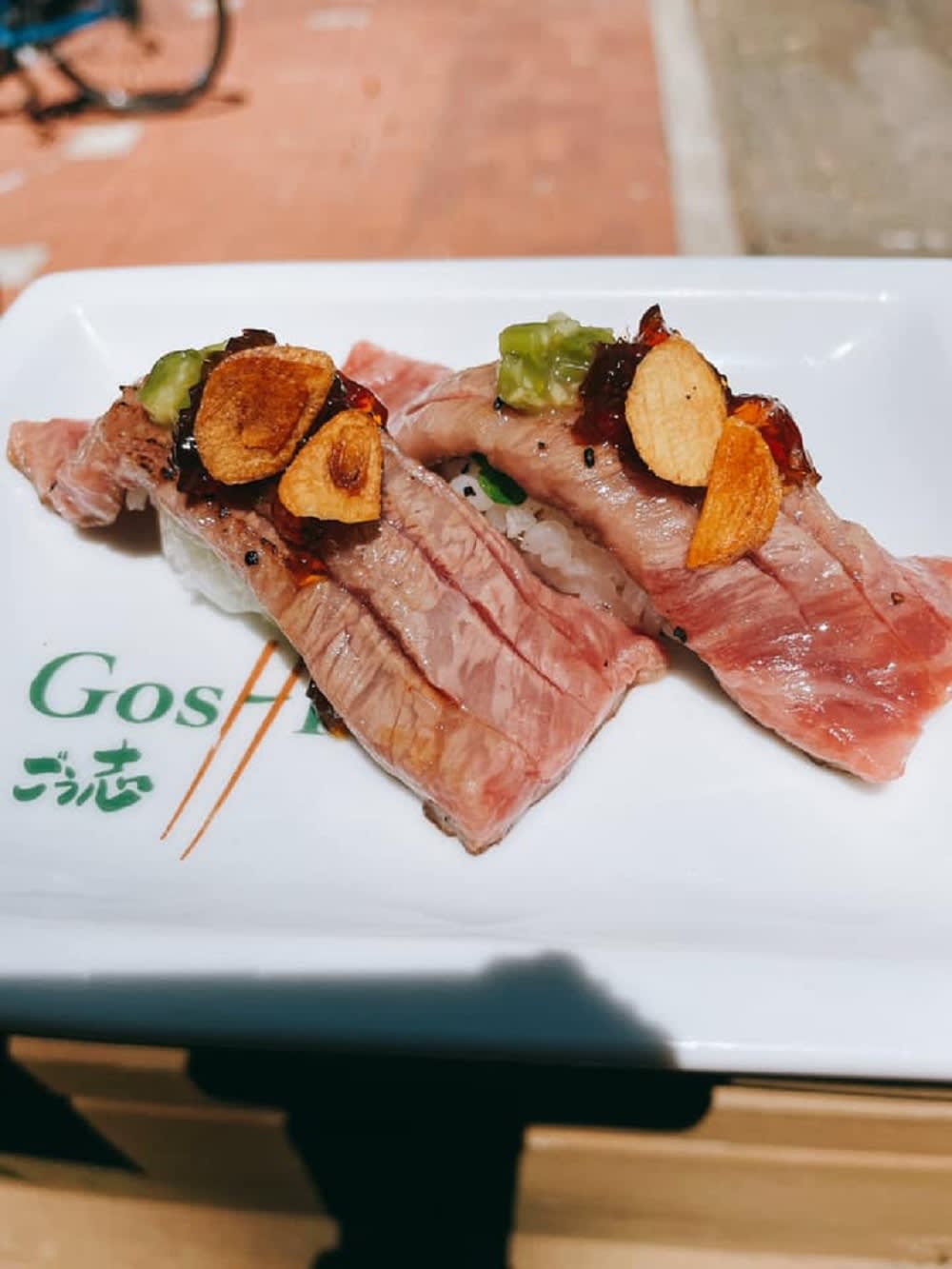 Credit: Goshi