Nothing is better than the Central Coast of California, from its beautiful beaches to its family-owned vineyards that scatter the mountainside. But the central coast isn't only known for its hidden beaches and award-winning wine. There's also a thriving craft brewery scene here that you won't want to miss out on. Many Central Coast breweries are award-winning, and some of those exact beers are shipped around the continental United States.

Although the beer makes these breweries well-known, they deliver much more than just a tasty beverage. With their diverse flights and lavish food, you will not be disappointed when you visit one of these fantastic spots. 
BarrelHouse Brewing Company
BarrelHouse Brewing Company is one of our favorite spots! Everyone in your party, no matter what their preferences are, will be happy visiting BarrelHouse. You can choose anything from their unique selections of porters and stouts to sours and cider, and you'll always be satisfied with your choice! If beers aren't your thing, don't worry—their options for housemade cocktails are just extensive. They put the same amount of passion into their cocktails as they put into their beers, with lavish garnishes and over-the-top add-ons.

BarrelHouse isn't just known for its drinks. They have some amazing dishes for vegetarians and carnivores alike. Once you finish your main course, you can head over to their ice cream bar for the perfect personal dessert.

The location and atmosphere also set this spot apart. There is a certain warmth you feel once you step inside. And BarrelHouse Brewing Company is pet-friendly! Whether you're taking in sours and sunshine at brunch or cozy fires and porters at night, your pet can relax and enjoy the vibes alongside you. Based on your mood, BarrelHouse Brewing Company will have a spot for you.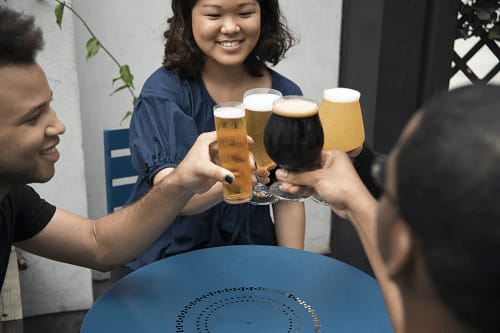 If you're more of a nightlife kind of person, The BarrelHouse Brewing Company has a fantastic stage for local bands to set the mood for the night. Just want to relax on a perfect Sunday afternoon? The beer garden's water features will soothe your mind while you sip on your drink of choice. If you're local, it may take a few visits before you experience all that BarrelHouse Brewing Company has to offer. This, in addition to their diverse selection of drinks, is what continues to draw us back!
On the opposite end of the spectrum is Oak and Otter Brewing, located in a more urban setting with two outdoor seating areas. There is a more intimate atmosphere at Oak and Otter Brewing, and the brewery has a small stage for stand-up comedy and one-man bands. Although Oak and Otter Brewing doesn't have a ton of space, they do make great use of their two outdoor areas, maintaining the same intimate feel that you experience inside.

Oak and Otter Brewing puts a unique twist on traditional dining entrees. Whether you're a vegetarian or a carnivore, you'll be happy with the menu selection here. If you have a sweet tooth, there are some great options for dessert!

The main reason to visit Oak and Otter Brewing, however, is their beer. They have an extensive and diverse list of local beers on tap. If you are unsure about what to pick, you can grab a flight of beers you think you'll like. Their flights are served on slabs of wood cut from tree trunks sourced from California forests, adding to the atmosphere. If you're a dark beer fan, you won't want to miss out on their Peanut Butter Stout, a local favorite that has also won a few beer awards. If you're not a beer drinker, their cocktails are not only delicious but also picture-perfect.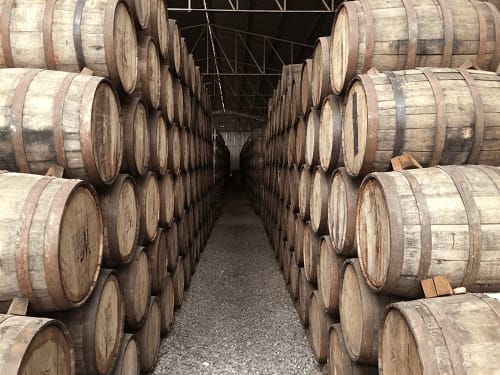 Central Coast Brewing
Naturally, one of the Central Coast breweries you'll want to visit is Central Coast Brewing. There are two locations in San Luis Obispo, so make sure you check out at least one of them. Central Coast Brewing prides itself on being your neighborhood brewery, and one location is set in an old barn with a rustic, warm feel. This second location allows them to brew an even more extensive selection of beers, resulting in more unique options for you. 
To give you an idea of their selection, Central Costs has between 15 and 30 beers on draft at a given time and an even larger number in bottles or cans. For food, Central Coast Brewing took a different approach—food trucks make up a large part of their food selection, allowing for a rotating menu and a bit of mystery about what will be available on a given night. Another great aspect of Central Coast Brewing is its atmosphere. There is so much outdoor seating, cycling events, and even pop-up movies on the lawn some nights. Whether you want a casual date with your significant other or a fun night out where the kids can tag along, Central Coast Brewing is a perfect option!
Another great brewery in the area is Libertine Brewing Company. Libertine has a fantastic location with a large and diverse indoor seating area. The mood and ambiance are modern with a hipster touch. They have vinyl records playing, and you can get a few rounds of ping pong in while you sip on your beer. Their selection of food is considered a traditional pub, but with a flair. You can get a charcuterie board and plate of loaded nachos or cheese fries that could feed a whole table.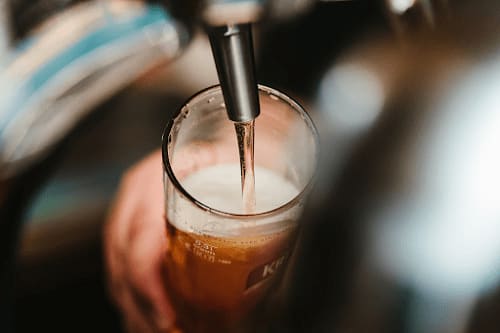 Libertine pairs its food with great beer options by offering a diverse and extensive selection of beers on tap. No matter your preference, you'll be able to find a beer that fits your taste. Their sours are a stand-out option—they are known throughout the west coast and have won a few awards. After a few midday beers and a fantastic entree or two, you can grab a craft coffee on the way out. Libertine has a great espresso machine and can cater to anyone's coffee needs. 
Further south is a great hole-in-the-wall brewery: Santa Monica Brewing Company Nipomo Taproom, located in North Santa Maria right off of US 101. Santa Monica Brewing Company is on the smaller side in comparison to the other breweries we have mentioned. Don't let that fool you, though—what they lack in size, they make up for in beer selection. It's also large enough to host smaller bands and other events. Their outside seating area has an additional stage and a great ambiance, and they also have a fire pit where you can snuggle up on cooler nights.

No matter what time of the year you visit Santa Monica Brewing Company, you will feel right at home on a sunny afternoon or a cloudless summer night. Their food is traditional pub fare, but don't let that deter you. Each and every item we have tried has satisfied us and filled us up! Sadly, vegetarians and vegans may have a hard time finding something to fit their dietary needs on the menu.

Whether you're in town for the weekend and can only stop at one or are a local and want to hit them all, you will not be disappointed with any of these breweries. As breweries become more of a place to relax and spend the afternoon, each excels at keeping guests comfortable and excited by their selection. Although breweries always make for a great afternoon, California's central coast has so many options and ways to spend your free time. For those interested in Central Coast real estate, these places are the cherry on top. If after a few beers, you find yourself falling in love with the Central Coast and want to stay a while the Weber Team is here. Hopefully, we will run into as you explore all that the central coast has to offer!