Nestled along California's famous Highway 101, Pismo Beach is a quaint beachside oasis that looks as though it's been taken out of a storybook. It's known for its incredible vistas of the Pacific Ocean, ample outdoor recreational activities, and charming local shops and restaurants. Whether you're searching for homes for sale in Pismo Beach, planning a romantic getaway with your significant other, or looking to catch up with a friend over drinks,
Pismo Beach
is the place to be. This vibrant town provides the perfect setting to enjoy cocktails once the sun goes down — complete with an inspiring view of the Pacific Ocean. Read on for a complete list of where you can find the best cocktails in Pismo Beach.
1. SeaVenture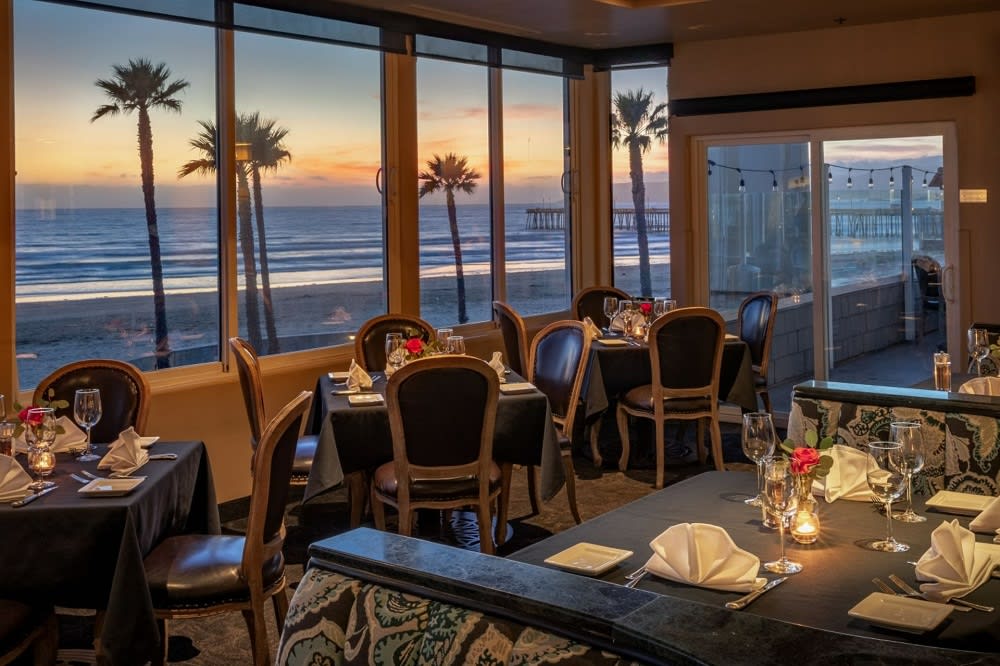 Photo courtesy of SeaVenture Beach Hotel
Perched on the third floor of the
SeaVenture Beach Hotel
you'll find a restaurant that exudes elegance and charm. The menu focuses on contemporary coastal cuisine, drawing inspiration from the surrounding local wine country. Start off your evening by taking a look at the craft cocktail menu. This extensive drink menu features nearly two dozen cocktails, which means that you'll have no problem finding one that suits you.
Consider ordering the Pomegranate Margarita, which is served on the rocks and made up of Nosotros silver tequila, Cointreau, Pama liqueur, and sour mix. The Irish Mule is another popular choice and offers a slightly different take on the traditional Moscow Mule. The Irish Mule is made of Jameson, Bundaberg ginger beer, and mint and is served in a copper mug.
Martini enthusiasts can look forward to one of SeaVentures many martini-inspired drinks, such as the 007 Martini. Served extra cold, this drink comprises Ketel One vodka, Bombay Sapphire gin, and Cointreau. While enjoying dinner or drinks, guests can take in the sweeping views from the large picture windows.
If the weather permits, consider taking your drink to the outdoor deck, where you can soak up the beautiful sunset and hear the sound of the ocean below. SeaVenture is open 24 hours a day, seven days a week.
2. Rooftop at Inn at the Pier
The
Rooftop at Inn at the Pier
is the place to be, whether you're celebrating a special evening out or simply treating yourself to drinks on a Tuesday night. Guests will have front-row seats to elevated views of the Pacific Coastline, which provides the perfect setting for enjoying a cocktail (or two!).
Start your night off with the Hotline Bling, a tropical mix of Vida mezcal, mango, lime, and ginger beer. The smoky mezcal, complimented by the sweetness of the mango, makes this drink a favorite on the menu. Other popular drinks include the One in a Melon and Rum to the Hills, whose flavors are equally as creative as their punny names. One in a Melon is made up of Midori, Hendricks gin, lemon, and vanilla meringue cookie, while Rum to the Hills is composed of Copalli rum, Licor 43, passionfruit, coconut, and lime. These drinks are a great option for anyone who prefers a fruity beverage.
Meanwhile, if you'd rather try warm beverages, options include Just Chai It, which features chai-infused rum, Licor 43, and honey. The Dublin Down is another widely ordered drink and is made of Tullamore DEW Irish whiskey with Dorda sea salt, caramel liqueur, and Mr. Black espresso liqueur. Between the seasonally inspired cocktails and the poolside lounge and bar, you're in for an unforgettable evening at Inn at the Pier. The Rooftop is open every day from 11:30 a.m. to 9 p.m.
3. Somerset Grill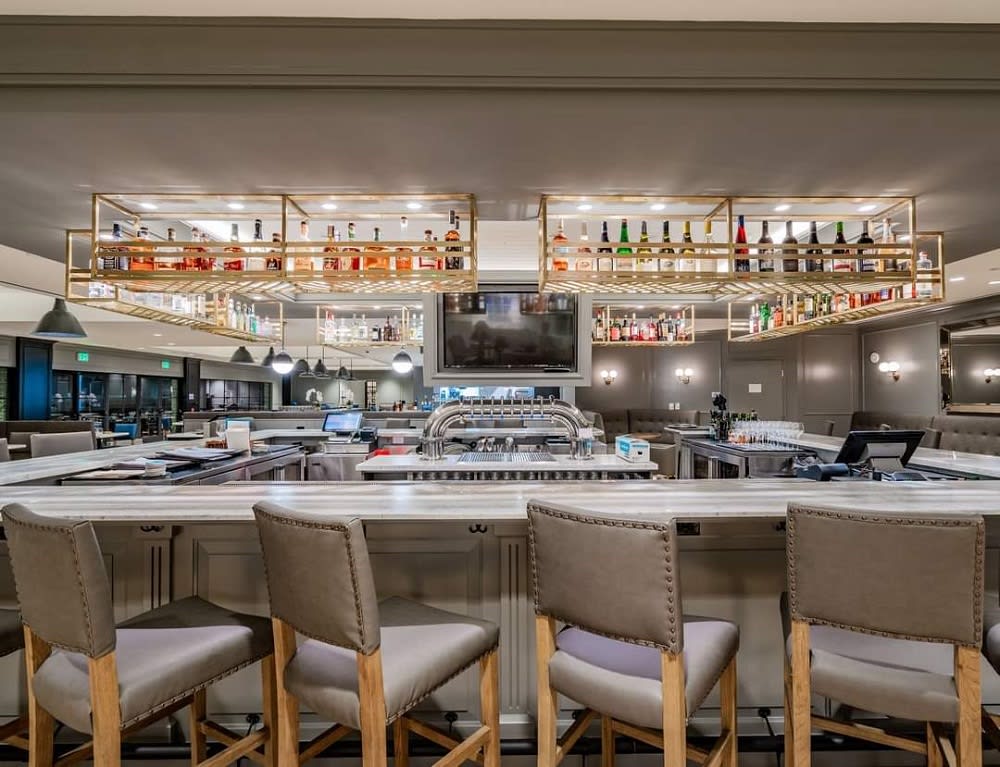 Photo courtesy of Somerset Grill
Panoramic ocean views, breeze patio seating, and carefully crafted cocktails are some of what makes
Somerset Grill
unique. Located at the Bespera Resort, this Pismo Beach staple offers a menu that features flavors and ingredients from California's Central Coast. The result is comfortable and creative dishes, which can be perfectly paired with a delicious cocktail.
Browse the cocktail menu, which boasts a handful of
craft cocktails
of varying flavors. If you're looking for something refreshing, then the paloma is a great choice for you. This famous drink is made with mezcal or tequila, lime juice, grapefruit juice, agave, and grapefruit sparkling water. You might also want to try Moore Lemonade, a drink that's made up of Elijah Craig Bourbon, dry orange curacao, lemon juice, and simple syrup.
The Somerset Grill is perhaps most famously known for their Central Coast Fashion, an inventive twist on the classic old fashioned. As one of the most ordered cocktails, the Central Coast Fashion is made up of two simple ingredients: Elijah Craig bourbon and amaro nonino.
No matter which drink you choose, you can look forward to an evening of great views and even better cocktails. The Somerset Grill is open every day from 7 a.m. to 9 p.m.
4. La Bodega Tapas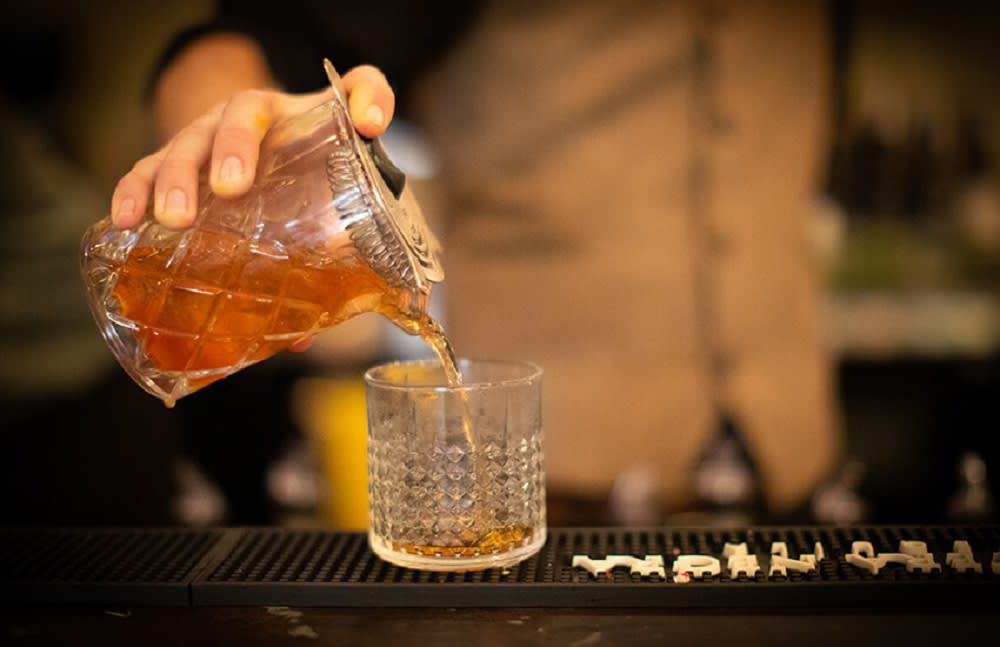 Photo courtesy of La Bodega Tapas
La Bodega Tapas
offers an authentic Spanish dining experience. Their menu consists of a diverse array of tapas, as well as wood-fired flatbreads and artisanal charcuterie and cheese boards. Be sure to order a pitcher of La Bodega's famous sangria to go along with your meal. This traditional Spanish punch consists of red wine and chopped fruit, providing guests with a refreshing beverage to enjoy with their meal. Guests can also choose from a variety of wines, beers, and other signature cocktails. La Bodega Tapas is closed on Tuesdays but open the other six days of the week.
5. Marisol at the Cliffs
At
Marisol at the Cliffs
, you can take in a view of the ocean with a drink in hand. This oceanfront resort is known for its inventive New American fare, including fresh seafood. They also have an impressive wine and
craft cocktail list
. Start your evening off with the Blood Orange Mojito, a seasonal special drink made with freshly squeezed blood orange and lime juice, Bacardi, Campari, fresh mint, and candied blood orange slices. The Craft Gin and Tonic is a solid choice, comprising house-made tonic, JJ Pfister Gin, lime, and a sprig of rosemary to pull it all together.
And don't forget about the Pismo Pier Punch! Ingredients in this local drink include Gray Goose orange, Absolut Mango, pineapple juice, orange juice, and citrus. Reservations fill up quickly, so be sure to book a table in advance. Marisol at the Cliffs is open every day from 8 a.m. to 9 p.m.
6. Wooly's
Between the great drinks and the casual ambiance,
Wooly's
has become a neighborhood hotspot in Pismo Beach. It specializes in American fare, offering everything from burgers to sandwiches to seafood. Be sure to check out the speciality cocktails menu, where you'll find a list of cool and creative California-inspired drinks. You might want to try the Pismo Sunset, which is made with Cruzan, Myers dark, banana liqueur, orange juice, pineapple, and grenadine. You can't go wrong with the Riptide, made up of Hornitos Reposado, prickly pear, jalapeno, and house-made margarita mix. The Drunken Sailor is another popular option and consists of Cruzan, Sailor Jerry's, pineapple, guava nectar, and ginger ale. Even if it's your first time at Wooly's, you'll soon feel like a local at this local watering hole. Wooly's is open daily from 10 a.m. to 9 p.m.
7. Blonde Restaurant and Bar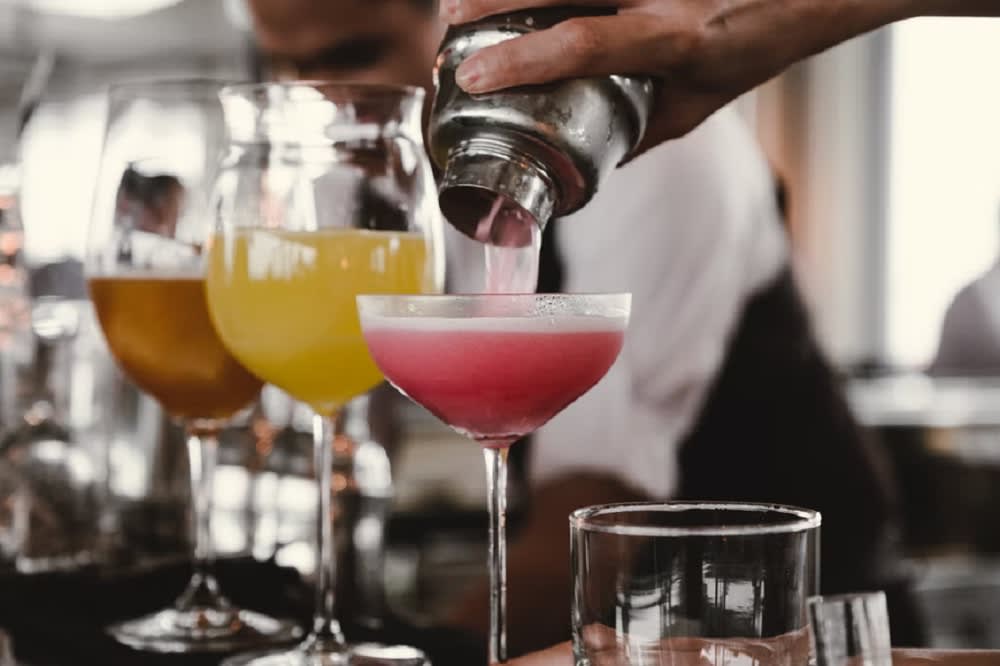 Source: Unsplash
Located in downtown Pismo Beach,
Blonde Restaurant and Bar
is a spot that you don't want to miss. This casual eatery specializes in contemporary beach flair with a distinctive California twist. The expansive menu with an impressive cocktail list and light-filled ambiance make this spot a favorite among locals as well as those on the search for Pismo Beach homes.
The Blonde is a signature dry martini, with added body from egg white. Ingredients include Pisco Liquor, blood orange bitters, lemon, egg white, and grated orange. Meanwhile, the Midnight Smoke is a rendition of a classic cocktail with added smoked apple wood chips, chipotle spices, and orange. It's made with Eagle Rare Bourbon, chipotle simple, black walnut bitters, and coffee ice cubes.
For a true California beach experience, consider ordering the Negroni at the Pier, which is jam-packed with bold flavors. The drink consists of Bombay, orange, Antica Carpano, Luxardo, Lillet Blanc, and St. Germaine and is topped with a decorative orange peel. Guests can also order a spiked soda, such as the Strawberry Lavender Lemon Fizz or the Cucumber Beach Mule for creative twists on cocktails. Blonde Restaurant and Bar is open daily from 7 a.m. to 9 p.m.
If you're interested in exploring Pismo Beach real estate,
contact the Weber Team
today. The Weber team can guide you through the process from start to finish, whether you're looking for a vacation home or forever home. With years of experience in the real estate industry and extensive knowledge of Pismo Beach luxury homes, this talented team is ready to help you find your dream home.