Regardless of whether you're planning for a date night or a movie night with friends, there's little that's better than some homemade Italian food to compliment your evening. We've pulled together some of the top restaurants in San Luis Obispo that serve Italian food. Plus, all of these places deliver so you can have dinner dropped off right to your doorstep! Read on to discover seven of the best Italian restaurants in SLO.


Buona Tavola
Buona Tavola—which means "good table"—has been a part of the community since first opening its doors in 1992. Over the past two decades, this family-owned and operated restaurant has garnered a reputation for its stellar Northern Italian cuisine. Bueno Tavola, which is located in Downtown San Luis Obispo, opened to rave reviews and continues to impress its patrons. The menu features popular dishes such as spaghettini aglio olio e peperoncino and linguine fra diavolo. Plus, if you're gluten-free, Buona Tavola offers a gluten-free lunch and dinner menu that has plenty of options! All of the menu items are made with the area's freshest seasonal ingredients—and all of the dishes are cooked with love. The extensive wine list features decadent wines from across the country and throughout the world. If you're craving a little something sweet after dinner, check out their extensive dessert menu. The dessert list consists of a plethora of goodies, ranging from tiramisu to souffle' al cioccolato. You can stop by for Wine Wednesday and get 1/2 off any bottle under $100.00. But, if you prefer to enjoy dinner from the comfort of your home, then why not consider delivery? This will make an easy—and delicious—dinner for you.
Tre Fiamme Pizzeria Trattoria
Tre Fiamme is translated to three flames, and at Tre Fiamme Pizzeria Trattoria, you can experience the warmth and love that keep this restaurant going. At this San Luis Obispo pizzeria, you experience regional cuisine at its finest, with the simple and flavorful taste that is rich with authenticity. The chef was born and raised in Italy, where the value of food and hospitality was ingrained in him at a young age. The menu that he has created offers a diverse and exciting array of options. As a successor of a 31-year-old establishment, Tre Fiamme Pizzeria Trattoria is intentional about serving the community with diverse deliciousness and an experience that the whole family is guaranteed to enjoy. If you're looking to enjoy a date night in or just a regular Tuesday night, you can order Tre Fiamme Pizzeria Trattoria for delivery!
La Locanda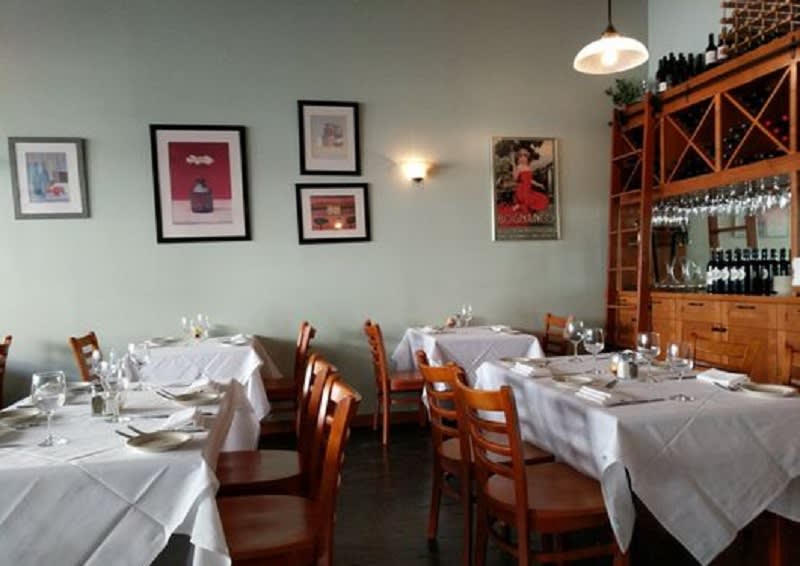 La Locanda, which translates to "the Inn," offers an intimate experience for guests to eat, drink, and stay awhile. However, if you don't feel like leaving home, you can have dinner brought right to your doorstep! Whether you're dining in or opting for delivery, La Locanda is all about ensuring guests fully enjoy the experience of true Italian cooking and become a part of their family. Each meal is handmade from scratch daily, all made with precision, love, and authenticity. San Luis Obispo is known for its colorful farmers' markets, and La Locanda shops there weekly for fresh ingredients sourced from local farmers. They invent weekly—sometimes daily—specials centered around the gathered produce. Even more impressively, they sometimes offer up to eight specials at a time! Although there are always rotating specials and staples on the menu, the chef never comprises his traditional Northern Italian fare. To complement your meal, consider getting a glass of wine. La Locanda offers a diverse selection of local and Italian wines by the bottle and the glass. You can explore their expansive wine list here. If the lasagna happens to be a special when you visit La Locanda, you're not going to want to miss it!
Pizza Republic
Pizza Republic has a lot to offer—from their famous pizza to their full menu of Italian specialties. This neighborhood pizzeria and restaurant serves freshly prepared dishes using quality ingredients. Their mission is to deliver the authentic taste of Italy using local ingredients from merchants and vendors in the community whenever the opportunity allows. Pizza Republic is committed to customer satisfaction and believes in employing the local community. In addition to delicious pizzas, you can also find an array of pastas, salads, and desserts here. Order online for delivery or pick-up!
Mama's Meatball
Considered one of the best Italian restaurants throughout San Luis Obispo County, Mama's Meatball specializes in traditional Italian pizza and fresh pasta. This spicy Italian restaurant is known for using the freshest, highest quality ingredients grown locally to create some of the most outstanding dishes you could find in San Luis Obispo. As part of their authentic Italian dining experience, they also prepare some of their signature dishes—such as the fettuccine alfredo - right at your table. It can't get any fresher than that! Mama's Meatball is also known for its freshly-baked garlic bread knots. These famous knots are served with every dish and every salad you order at the restaurant. In addition to their famous garlic bread knots, they also proudly bake all of their pizza doughs, sandwich bread, and desserts from scratch—without preservatives—six days a week. An array of classic Italian-style bite-sized cookies are also available for sale at the store. For your convenience, Mama's Meatball offers dine-in, takeout, and delivery services. You can also browse through the online store, where Mama's Meatball sauce is one of the most popular selections. The sauce is available in two flavors: marinara and bolognese. This is the perfect option for a date night at home or a family dinner!
Cafe Roma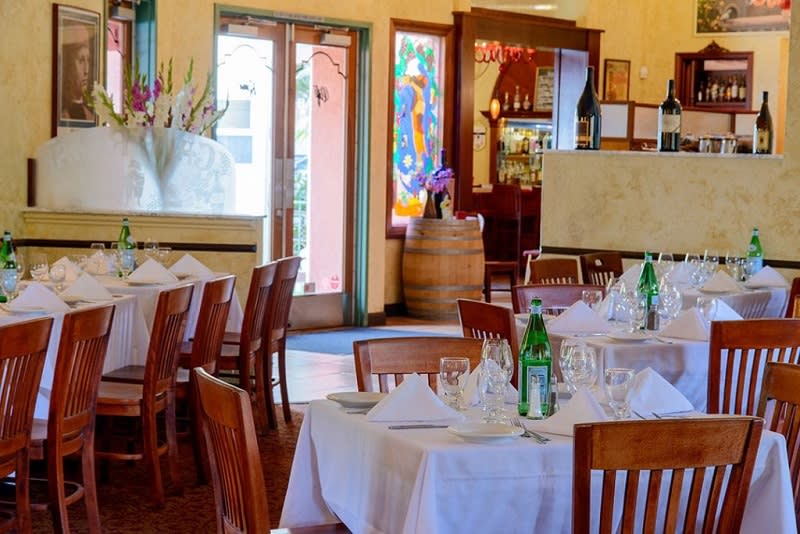 Located in San Luis Obispo's Historic Railroad Square, Cafe Roma has been a part of the community since first opening its doors in 1980. It was the first Italian restaurant in the area and specialized in Northern Cuisine with French flair. Originally started by a husband and wife duo, this restaurant is now run by the three boys who carry on their father's restaurant legacy and celebrate the best of Italian wine, culture, and cuisine. Over the past forty years, they have built a reputation for their authentic and fresh Italian food. To this day, Cafe Roma is one of the largest buyers at local farmers' markets, where they often do their picking with the new Rizzo generation and buy out the day's hauling. Their menu features a diverse array of dishes. If you're in the mood for pasta, consider trying the Bucatini Carbonara or the Linguini alle Vongole. The margherita and Capricciosa are great options if you're craving pizza. Regardless of what you choose, you'll be sure to be impressed with the homemade and authentically delicious dishes. For easy delivery to your home, check out Cafe Runner!
Nucci's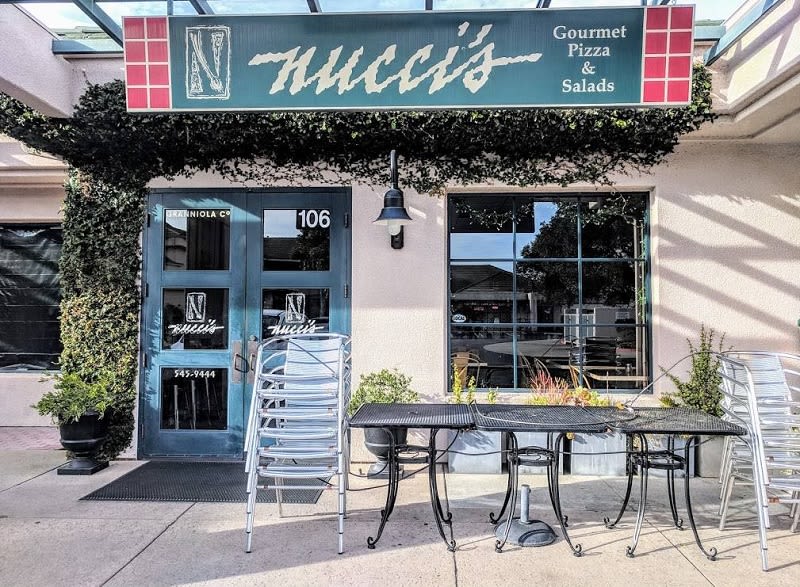 Nucci's has been serving delicious food in San Luis Obispo since they were first established in 1994. Since then, they have become one of the most popular pizza joints in the area. At Nucci's, it's all about fresh ingredients and good times. Throughout the years, the menu has remained relatively unchanged. Here, you can choose from pizzas, salads, sandwiches, and pastas. All of the bread and dough are made fresh daily, as well as the sauces, salad dressings, lasagnas, and meatballs. They also offer catering for large groups, daily specials, and gift cards. Open every day but Sunday, Nucci's is available through pickup, dine-in, and delivery. The high-quality food and top-notch customer service are sure to impress you and have you coming back for seconds!

If you're ready to explore San Luis Obispo real estate, contact the Weber Team today. This talented duo, Sarah and Summer, are well versed in homes for sale in San Luis Obispo. They are fully equipped and ready to help you find your dream home. There's never been a better time to make the move to SLO, where you can enjoy close access to the ocean, a strong sense of community, and a wide array of restaurants.