Even though Pismo Beach is small in size, the delicious food options are plentiful. The food is top quality, and at every corner, there is something new to indulge in. Whether it's freshly baked pastries, delicious fish dishes, or even the infamous clam shower, there is something here for everyone. If you're looking for places to eat at Pismo Beach, keep reading to check out these 12 restaurants near Pismo Beach Real Estate that you can eat at as you ring in the new year.
1. Pismo Fish and Chips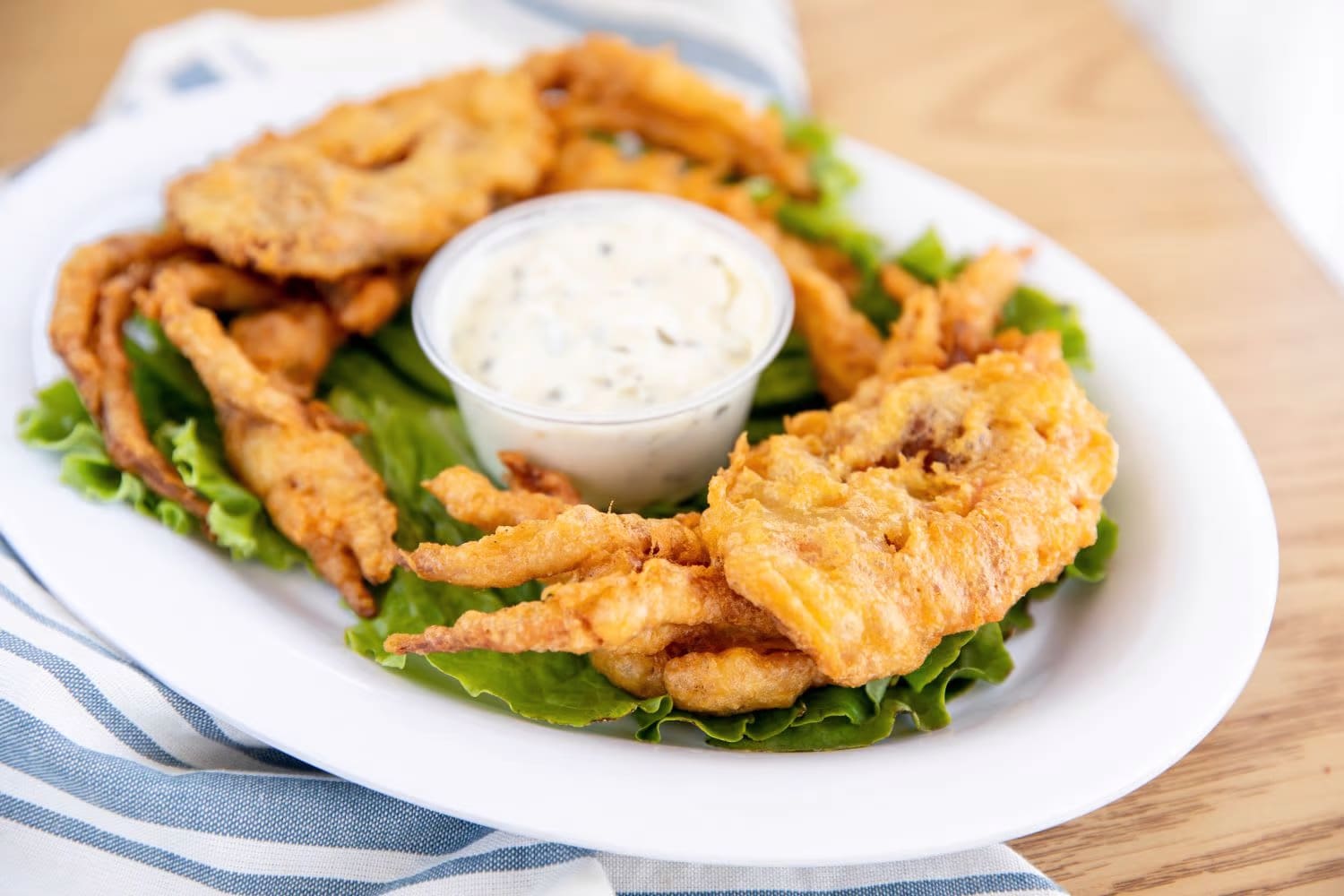 Credit: Pismo Fish and Chips
Pismo Fish and Chips is a family-run restaurant that is not only known to be the go-to spot for tasty fish and chips, but also for their friendly service and old-school vibes. Their menu offers a large variety of dishes of mostly fresh seafood and other fried delicacies. Start your meal off with a shrimp cocktail and make sure to try their classic clam chowder, which is served on a freshly baked bread dish. There are also several fresh salads, sandwiches, burgers, and tacos to add to the variety of the menu options.
2. Wooly's
Wooly's is a family-friendly eatery that welcomes everyone of all ages. Everyone at Wooly's is very inviting and the atmosphere is very casual. Come sit and relax together by the beachside as you enjoy all of the scrumptious food and drinks. Their open-air beachfront deck is perfect for unwinding and enjoying a great meal along the beach, Pair your meal with one of their cocktails, beers, or wines. The location is great for being able to take in the scenery without staying in the sun all day.
3. SeaVenture Restaurant
On the third floor of the SeaVenture Beach Hotel is a restaurant that will exceed your expectations. Go to where ocean views meet coastal cuisine at the SeaVenture Restaurant. Take in the amazing view of the sunset and the Pacific Ocean while sitting by the large picture windows or on the outdoor decks of the restaurant. Along with the stunning views of the beach, it's easy to lose yourself in coastal cuisine prepared by Chef Steven Smeets. The nearby local wine area served as inspiration for all of his cuisine.
Come to enjoy his seasonal dishes, which are meticulously made with locally grown fruit, premium meats, as well as the best fresh fish and shellfish available. Pair your dinner with carefully chosen local wines from the Edna Valley, such as cold crisp Chardonnays, classic Pinot Noirs, peppery Zinfandels, and robust Cabernets from Paso Robles. Every single one of your taste buds will be satisfied with these meals.
4. Splash Cafe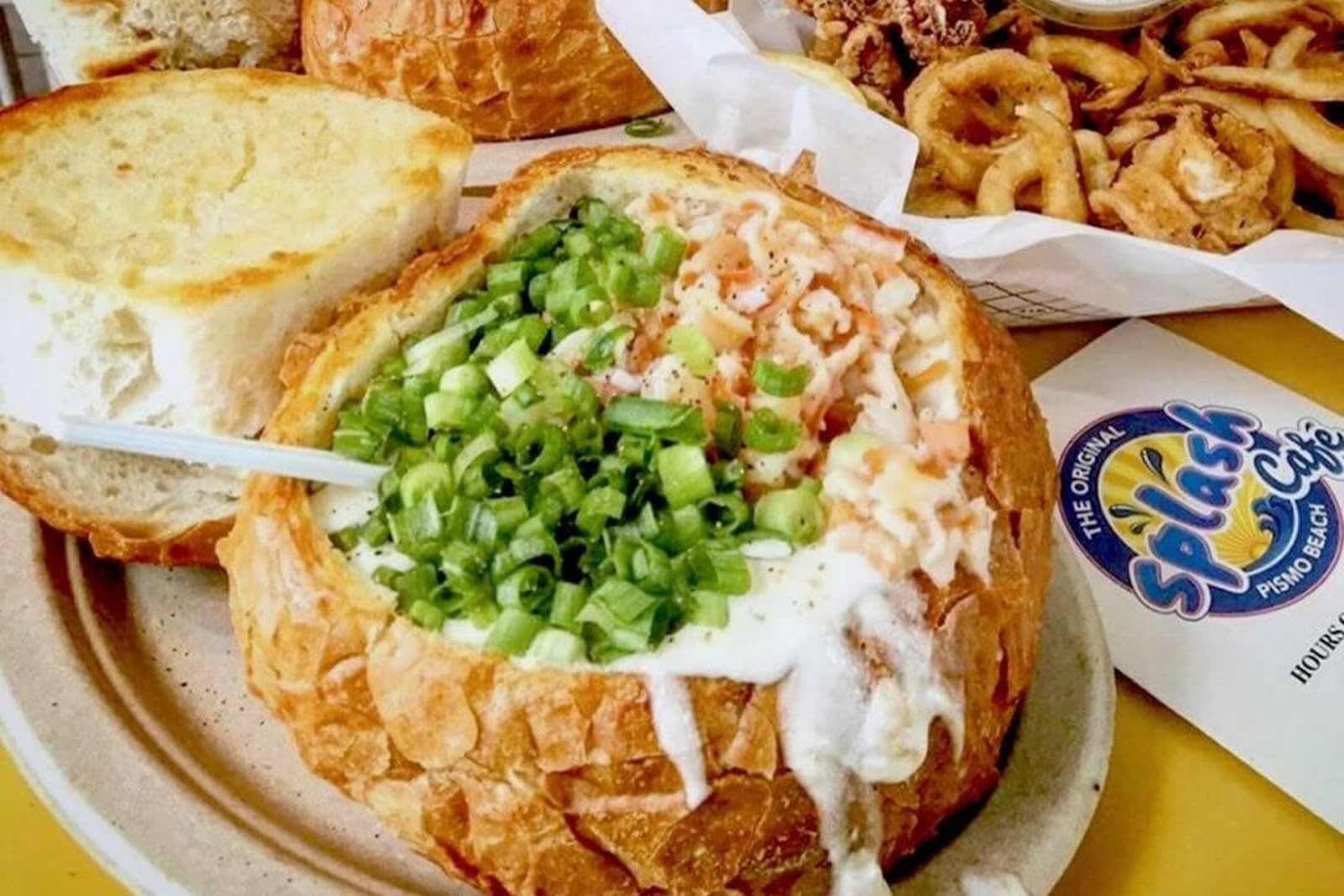 Credit: This Life of Travel
If you wish to eat at an outstanding restaurant that is next to the beach or taste a local delicacy, go to Pismo's Splash Cafe, where the greatest Clam Chowder in Pismo Beach can be found. Even if Clam Chowder isn't your style or preferred taste, you'll find plenty of other alternatives including fries, burgers, fish tacos, great family-size meals, and sweet desserts prepared from scratch every single day with fresh ingredients. This cafe also serves vegetarian meals, so if you don't like fish, you may still enjoy this restaurant. It's a can't-miss on the way from Los Angeles to San Francisco! You have the choice of eating at the café, taking your food to the beach, or if you wish to stay in, try ordering delivery.
5. Ada's Fish House
Ada's Fish House in Pismo Beach is a family-run establishment that serves delicious fish and seafood. What makes this tropical eatery stand out among other Pismo Beach restaurants is that it features both outdoor and indoor seating, so you can enjoy the fresh air on a nice day. The signature dish at this restaurant is the award-winning Clam Chowder. People travel from all over to eat this legendary meal, which holds rank as one of Pismo Beach's best seafood in town, which is why you cannot leave without trying this signature dish. Because Ada's Fish House focuses on seafood, you will find some of the greatest Pismo Beach food here, including some high-end seafood such as crabs, oysters, and calamari and other favorites include seafood spaghetti, fish & chips, and crab cakes. In addition, the restaurant is particularly famous for its excellent wine as well.
6. Oyster Loft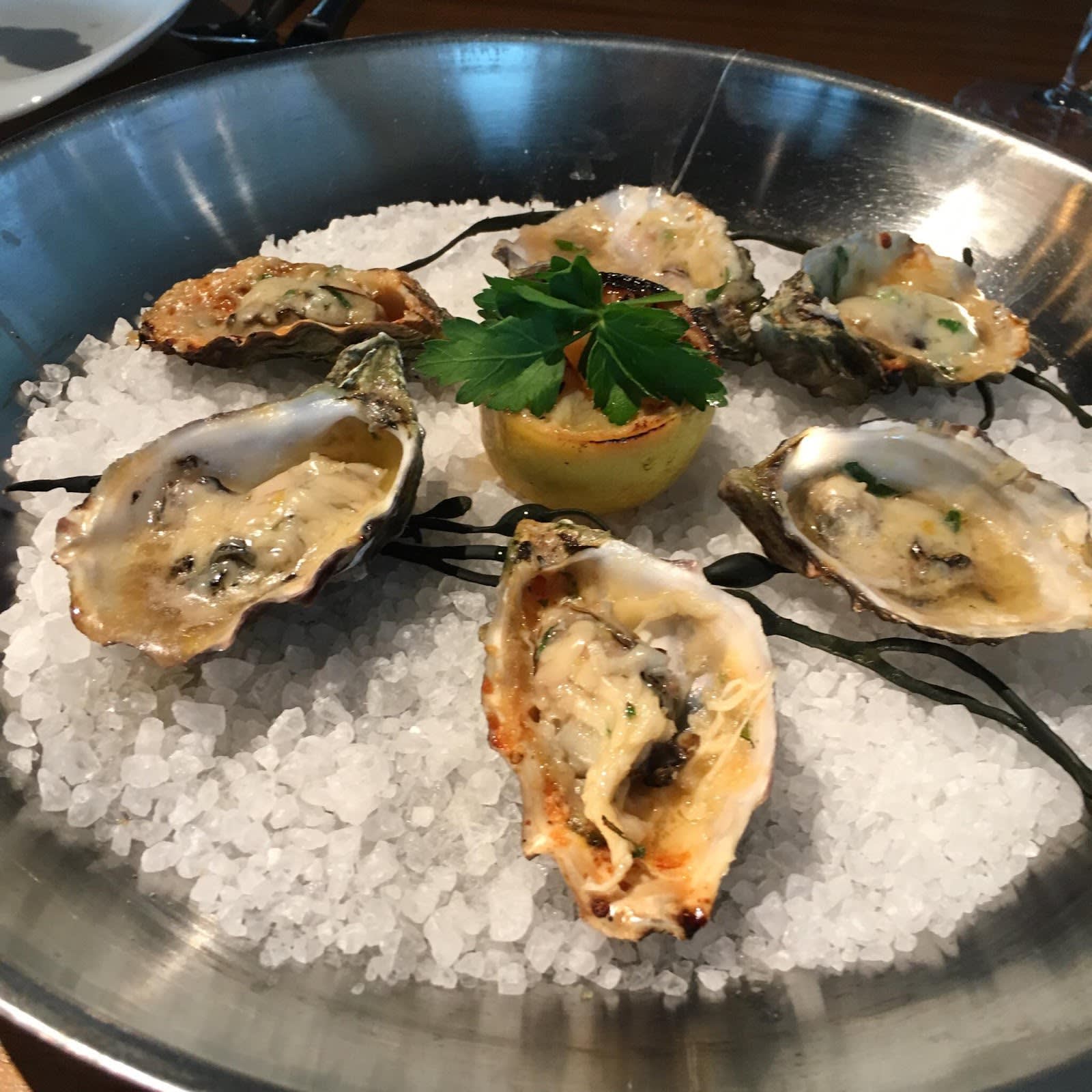 Credit: TripAdvisor
Oyster Loft, a three-time winner of the Dinner's Choice Award and one of the top 100 most romantic restaurants in the United States, has so much to offer and will leave you with an unforgettable experience for you and your date. It's a great spot to dine with your sweetheart in Pismo Beach, and it features both outdoor and indoor areas for seating. If it's a warm night, you'll enjoy stunning views from the lovely patio. Because Oyster Loft is close to the ocean, it quickly became one of Pismo Beach's greatest restaurants with a view, especially around sunset. It's definitely considered one of the more luxurious and high-end restaurants, but it is well worth it as the food's quality and presentation are immaculate, as well as the great service and attention to detail combined for a genuinely memorable experience.
While the most popular time to visit is around dinner, Oyster Loft is one of the greatest locations to dine in Pismo Beach no matter the time of the day, whether it's for lunch after a morning visit to the beach or an afternoon cocktail to sip on while watching the sunset on the shore.
7. Cracked Crab
Cracked Crab at Pismo Beach caters to seafood aficionados with a variety of crab-based delicacies. The restaurant is just a block away from the beach and serves upscale yet budget-friendly meals, with family-size portions and other alternatives such as soups, sandwiches, chips, tacos, and salads. Although this is one of the top seafood restaurants in Pismo Beach, they do provide vegetarian options on the menu. You have the option to either dine-in at the restaurant itself or if you happen to be arranging a nice beach get-together with friends you can order takeout.
8. Ventana Grill
Known to have one of the most beautiful views of the ocean is Ventana Grill, which is a sophisticated restaurant that is excellent for an early supper while watching the sunset. They provide coastal fusion cuisine with a wide variety of meat and seafood, as well as a wide range of alcoholic beverages. You'll be able to watch how your dish is produced because part of the kitchen is visible, which is always a plus for both picky and adventurous customers.
If you're seeking a great steakhouse in Pismo Beach, look no further. Ventana Grill also creates whole menus for weddings and other large parties, so if you ever want to celebrate your birthday on the beach with stunning views and even better cuisine, this is the place to go. It is recommended that you make a reservation ahead of time to ensure that you get a table.
9. La Bodega Tapas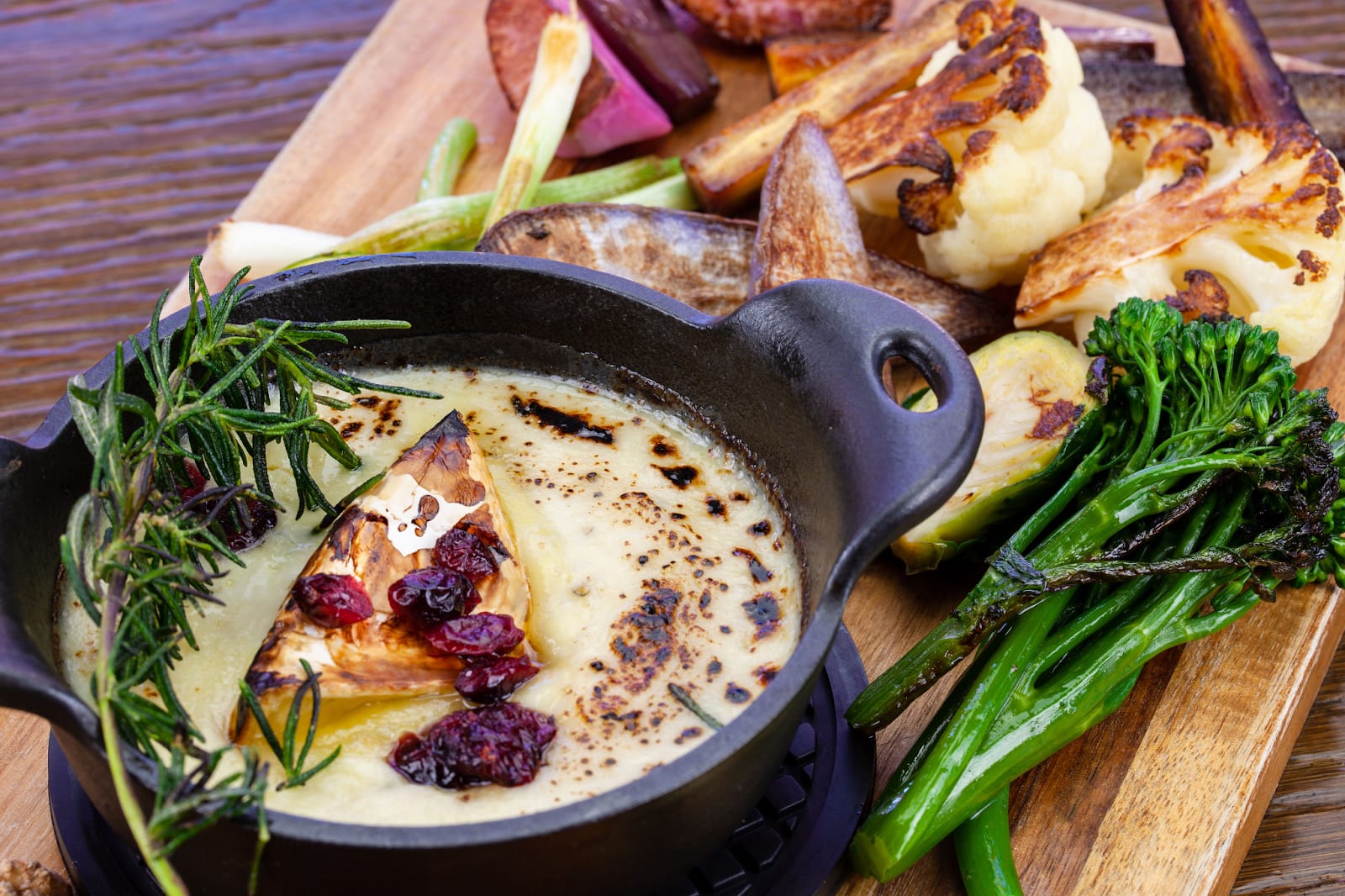 Credit: La Bodega Tapas
La Bodega Tapas is a lovely, warm wooden space with a tiny fireplace with a fine wine exhibition, where you can fill up on a wide selection of chopped vegetables, cheese tables, and inlays. Many times it is not just about how the meal tastes, but it is equally important how the food is presented and the staff at La Bodega Tapas are well aware of this. All of the meals are expertly prepared with passion, flavor, and color to provide a complete sensory experience. Their fusion South American BBQ food is the ideal spot for a unique Pismo Beach supper and the chorizo empanadas are very popular here, so make sure to try one during your visit.
10. Penny's All American Cafe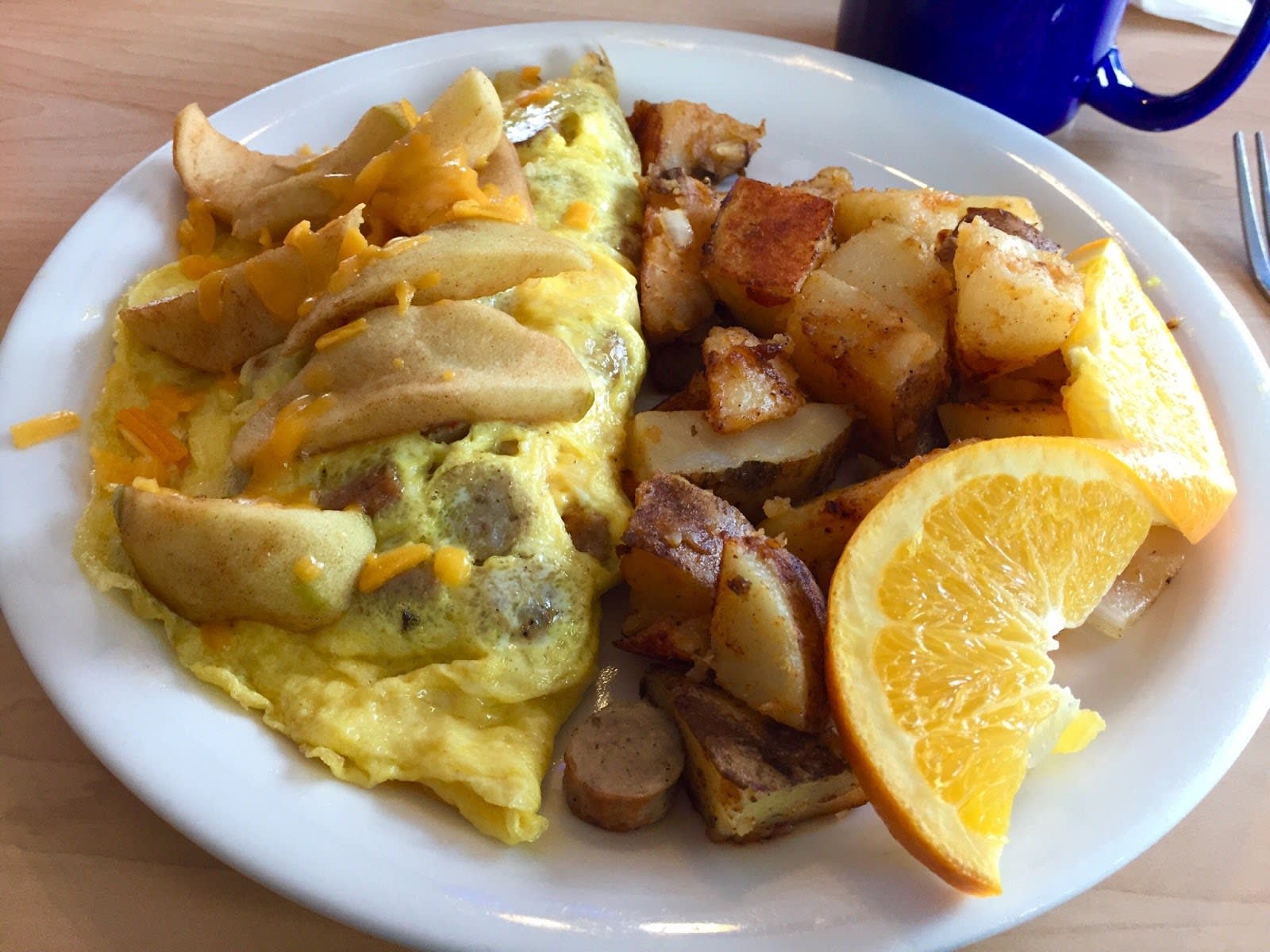 Credit: TripAdvisor
Penny's All American Cafe is the place to go if you're searching for a genuine American breakfast or lunch. This is another lovely family-owned restaurant in Pismo that offers a wide range of alternatives in sizes and servings that are commensurate with their reasonable prices. Penny's café includes both indoor and outdoor seating, and the atmosphere is warm and inviting, making it a terrific place to start your day in Pismo Beach. Penny's Favorite Omelette, The Country Scramble, and Penny's Favorite Sandwich are some of their greatest offerings. Vegan and vegetarian choices are also available on the menu as well.
11. Somerset Grill
Somerset Grill, a spectacular restaurant within Vespera Resort, offers mouthwatering dishes such as generous cheese and charcuterie boards, seafood plates, vegan and vegetarian options. Also available are delicious cocktails and craft beer from breweries near Pismo Beach, the perfect option if you want to dress up and enjoy a fancy dinner, sparkling flutes, and the ocean on your window. All of their dishes are made using locally sourced ingredients, and they serve breakfast, lunch, and supper. If you're looking for a great dining experience in Pismo Beach, this is the place to go. You'll need to make a reservation in advance to guarantee a table. If you're with a large group, you may also reserve a private dining room.
12. Beachin' Biscuits
If you're looking for a delicious homemade breakfast, then Beachin' Biscuits has what you're looking for. Beachin' Biscuits is a family-owned business that specializes in handmade breakfast. Their specialty is biscuits and gravy, but they also provide breakfast sandwiches, burritos, and coffee, as well as beer and wine, so you may select this restaurant for lunch or a fantastic brunch in Pismo Beach. Because the quantities are so large, you should come with an empty stomach.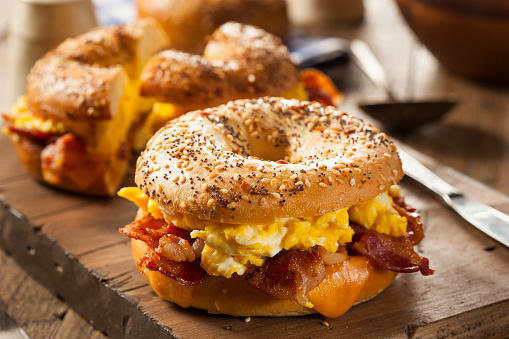 No matter what you are craving, you will be satisfied with the selection of local eateries here. Whether it is Mexican cuisine, classic American food, or authentic Italian dishes, there is something here in Pismo Beach for you. If you're interested in viewing homes for sale in Pismo Beach, contact the Weber Team for more information.