As one of the nation's top college towns,
San Luis Obispo Real Estate
has many independent coffee shops to support the student population. The coffee shops reflect the safe, community-oriented feel of San Luis Obispo and embody the city's charm, character, and personality. Here are ten coffee shops that our team highly recommends!
Lucy's Coffee Co.
What started as a mobile coffee truck serving espresso drinks at events and workplaces has become a beloved community gathering space. Named for the owner's young daughter, Lucy's is a local coffee shop that perfectly encapsulates the family-friendly atmosphere that characterizes San Luis Obispo.
Lucy's
serves beans from local roasters, with a drink menu that includes all the typical espresso drinks alongside a variety of specialty drinks made with house-made syrups, like the oatmeal latte and the ginger tea latte.
Lucy's offers a range of baked goods, oatmeal, and gourmet toasts for small bites near
San Luis Obispo Homes for Sale
. Open seven days a week until 4:00 p.m., Lucy's is the perfect place to spend a slow morning or a relaxing afternoon with your favorite coffee drink.
Coastal Peaks Coffee
If you order a cup of coffee at a coffee shop in San Luis Obispo or elsewhere on the Central Coast, chances are
Coastal Peaks
beans are one of your choices. A roastery and café, Coastal Peaks sources their beans from small farms in the ideal altitude, climate, and soil, roasting and preparing the blends in small batches.
Coastal Peaks Coffee operates a café at the front of the roastery, serving up lattes, cappuccinos, and other espresso drinks made from their beans. They also have a small breakfast and lunch menu, offering breakfast burritos and bagels with your choice of topping.
Nautical Bean
This quirky, family-owned spot operates two locations in San Luis Obispo. With a relatively small drink menu — four drinks that can be ordered hot, iced, or blended — the food is the show's real star at
Nautical Bean
. With an extensive and eclectic food menu featuring wraps, smoothie bowls, and bagels to salads and chicken sandwiches, the Nautical Bean is a great place to hang out with friends and enjoy a meal.
Kraken Coffee Company
Kraken
opened in 2017 in nearby Avila Beach, and they now operate an outpost in the San Luis Obispo Public Market. Kraken serves a wide array of drinks every day from 8:00 a.m. to 3:00 p.m., including craft coffee, chai, cold brew, and kombucha. As the only coffee merchant in the market, Kraken is the perfect place to grab a drink to sip on as you peruse the market's retail spaces and food merchants.
Photo courtesy of Active Coffee Co.
Active Coffee Co
Located in The Creamery Marketplace and open from 8 a.m.-5 p.m. every day but Monday,
Active Coffee Co
. serves up delicious espresso drinks with a sugary twist: cotton candy. The cotton candy is made-to-order and lightly sweetens and flavors the coffee drinks while adding a unique textural element.
Active serves the standard coffee shop fare, specialty lattes, americanos, and other espresso drinks. Their aptly named cloud menu consists of coffee drinks topped with flavored spun sugar for the more adventurous customers. While flavor offerings rotate, Active has around 25 cotton candy selections, including chai, gingerbread, peppermint, marshmallow, and strawberry matcha.
Active Coffee Co. is a truly community-oriented coffee house with courtyard patio seating, upstairs office space, and a conference area that can be rented for meetings or events. They host a monthly storytime for kids in their community event space, live music, and other unique, family-friendly events. Active Coffee Co. is a great place to swing by for a fun drink, hang out with the whole family, and make new friends. Check out their
Instagram
account for an up-to-date list of menu offerings and events.
Field Day Coffee
Housed in an open, airy, well-lit old garage in the heart of the Mill Street Historic District, the family-owned cafe
Field Day
serves all the coffee shop staples — lattes, cappuccinos, drip coffee, and more with a variety of syrups and dairy-free milk options. Field Day has an artisan, crafted feel, offering house-made bagels and homemade almond milk substitutions. Marked by its friendly atmosphere and minimalist vibe, Field Day Coffee belongs squarely in the industrial-chic coffee shop movement. Their outdoor seating area is dog-friendly and the perfect place to set up to get some work done.
Libertine Coffee Bar
Sister to local beer favorite Libertine Brewing Company,
Libertine Coffee Bar
, serves espresso at their storefront in the Old Town Historic District. In addition to the standard coffee offerings, Libertine offers teas, local baked goods, breakfast and lunch options, and house-made kombucha on tap.
Libertine Coffee Bar offers a truly urban coffee experience with tables set up outside on the sidewalk. Libertine does operate on rather limited hours — 7:00 a.m. to 1:00 p.m. on weekdays and 8:00 a.m. to 2:00 p.m. on weekends — so be sure to visit early enough in the day.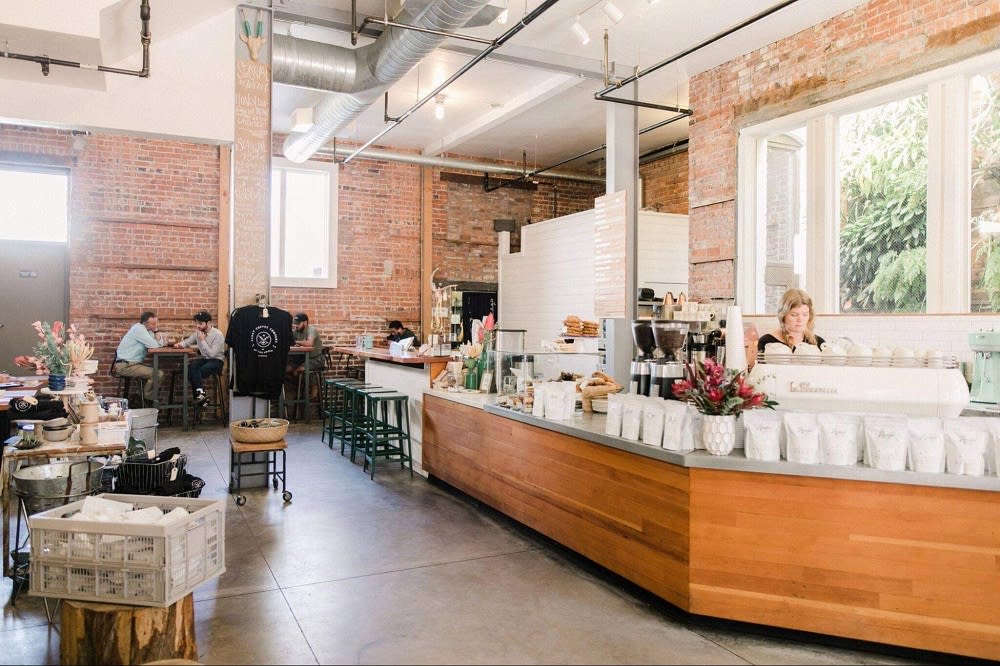 Photo courtesy of Scout Coffee Co.
Scout Coffee Co.
With two locations in San Luis Obispo — one on the Cal Poly campus and a new Morro Bay café and roastery —
Scout Coffee Co.
has taken the Central Coast by storm, growing since it first launched in 2014.
Scout's menu features a variety of espresso drinks, including a rotating selection of seasonal options. They make their baked goods daily in the commercial kitchen attached to their second location and serve everything from scones, croissants, and muffins to cookies, brownies, and dessert bars.
Scout uses their own beans, roasted under the brand name HoneyCo Coffee Roasters. Their six bean blends, five tea flavors, and homemade granolas can be purchased online in the retail sections of their storefronts. Scout Coffee Co. sells merchandise, branded apparel, mugs and tumblers, and local gifts.
With plenty of open seating indoors and outside, Scout is the perfect place to grab a coffee drink, meet friends, and browse a curated selection of local artisan goods. As a local favorite, Scout truly embodies the community spirit of San Luis Obispo.
Skippers Brew Coffee House
The Skippers Brew
San Luis Obispo location is the second outpost of this coffee shop that first opened in Morro Bay. Located downtown and near the Cal Poly campus, Skippers Brew Coffee House serves espresso drinks, brewed coffee, teas, chai lattes, and alternative beverages like a creative apple cider hot chocolate.
Skippers Brew has something for everyone with unique drink options like the spicy Mexican mocha, horchata latte, and turmeric ginger chai. Other crowd favorites include the iced apple cider chai, iced chocolate sea salt caramel latte, and iced Almond Joy latte. Skippers serves cold brew and kombucha on tap and offers unique flavors like bourbon caramel, sweet heat, sea salt caramel, mint mojito, and taro.
Don't let the eclectic favor offerings fool you — Skipper's Brew also has all the usual espresso drinks if you like your coffee more traditional. Open daily from 7:00 a.m. to 6:00 p.m.; Skippers Brew is a fantastic choice whether you need your morning caffeine fix or an afternoon pick-me-up.
The community-oriented coffee culture that marks San Luis Obispo is just one of the things that make the city so welcoming. If you're interested in
San Luis Obispo real estate
or want to check out homes for sale in San Luis Obispo,
contact the Weber Team today!

*Header photo courtesy of Lucy's Coffee Co.